Your stand at the IAW Trade Fair from 04. - 06. March 2024
Register your stand now to showcase your products at the IAW Trade Fair from
04. - 06. March 2024.
Are you a first-time exhibitor?
New: Stand cost calculator
(The price quote covers stand space only, minimum size is 14 sqm. The actual stand, e.g. walls, booth, carpet. is NOT included! The price estimate DOES INCLUDE the marketing fee of 11.30 €/m² and the advance payment of 11.50 €/m² for technical services)
Further information on stand rental
Discount
Early booking discount: 10 % of the basic rent if the formal application forms are received by 20.12.2023
Surcharges
Advertising contribution: 11.30 €/m²
Advance payment for technical installations: 11.50 €/m²
The advance payment will be set off against the final amount due after the trade fair.
Co-exhibitors
The fee for co-exhibitors of 300 € includes the following services: exhibitor passes, car park permits, guest-tickets, catalogue entry etc.
Marketing package for intensive advertising
Banner impressions, your banner prominently on the IAW website
Free* advert in the list of exhibitors at the IAW website
(*ready to publish layout to be provided by the exhibitor)
Entry with company profile and logo in the list of exhibitors at the website
Digital visitor invitations for your customers, entrance fees included
Presentation of your product highlight or services live at the Trendforum or E-Commerce Arena
Generous refreshment service for exhibitors and their guests during the entire trade fair
Ample number of exhibitor passes, VIP cards, tickets for the exhibitor party and parking vouchers (according to stand size)
Hall plan for the IAW September 2023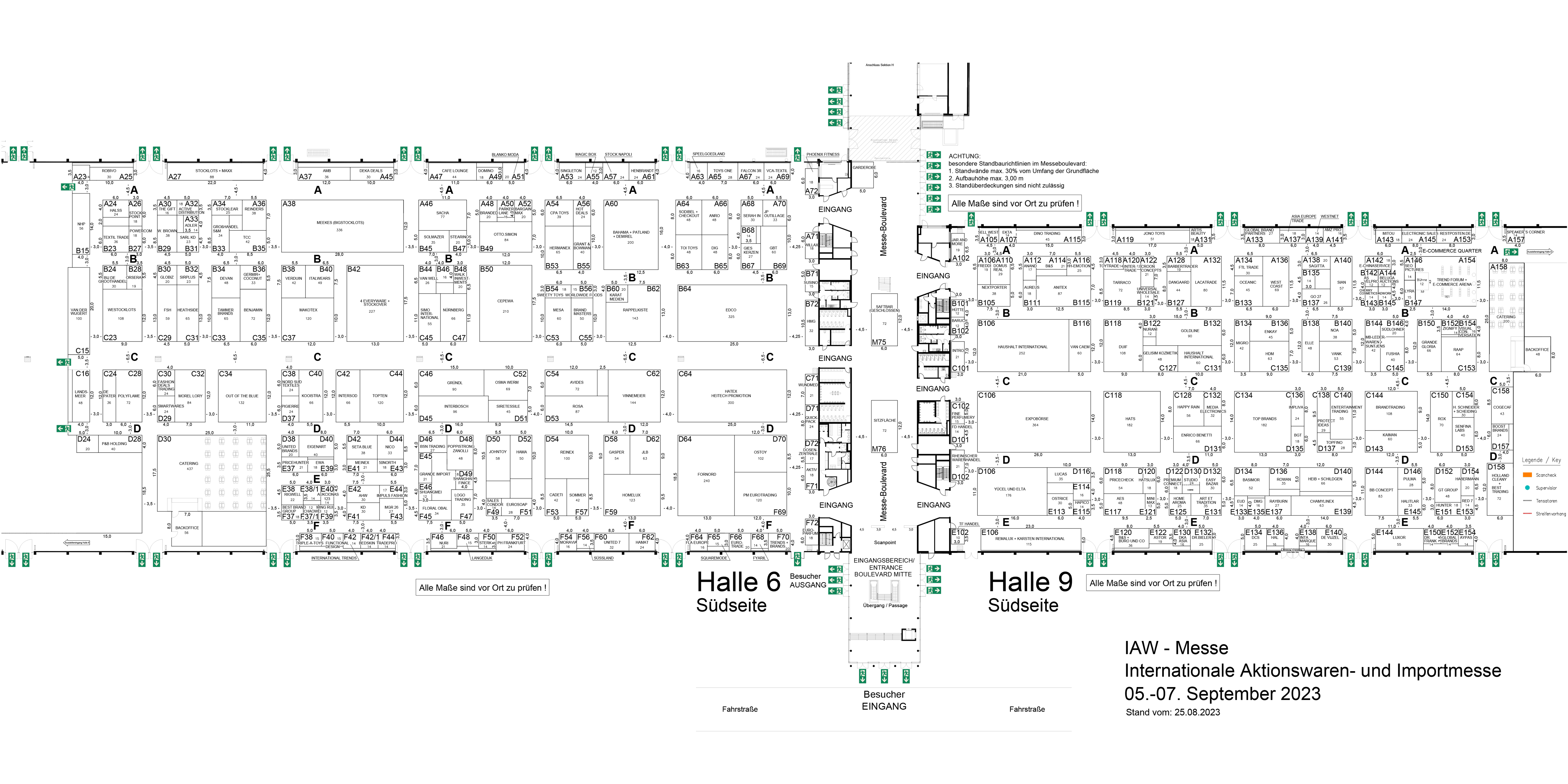 Zoom (use the scroll ball)
A PDF file of the hall plan (based on the preliminary allocation of stands for the IAW in September 2023 can be downloaded here.
Find more useful information here