When it comes to tracking, the Google tools are part of today's standard. Google Analytics, in particular, is indispensable if you want to track the relevant KPIs for your online campaigns. The Google Search Console and the Google Tag Manager are also important. What sounds like a lot of effort is quickly set up. The important thing is that you understand how these three tools interact with each other to achieve the best possible benefit for your e-commerce business.
Why Google Analytics?
The main purpose of Google Analytics is to provide you with an overview of the performance of your various campaigns as well as information about your visitors. Thanks to Google Analytics, it becomes transparent from which location, at what time, via which campaign, with which operating system/browser and with which end device your website is accessed. Whether you control the campaigns using Google Ads or social media, in Google Analytics you can evaluate how well your campaigns are performing. Organic accesses also become visible with Google Analytics. It thus becomes visible whether your content marketing strategy is paying off. Accordingly, if you do not want to spend your marketing budget thoughtlessly, you should not do without Google Analytics.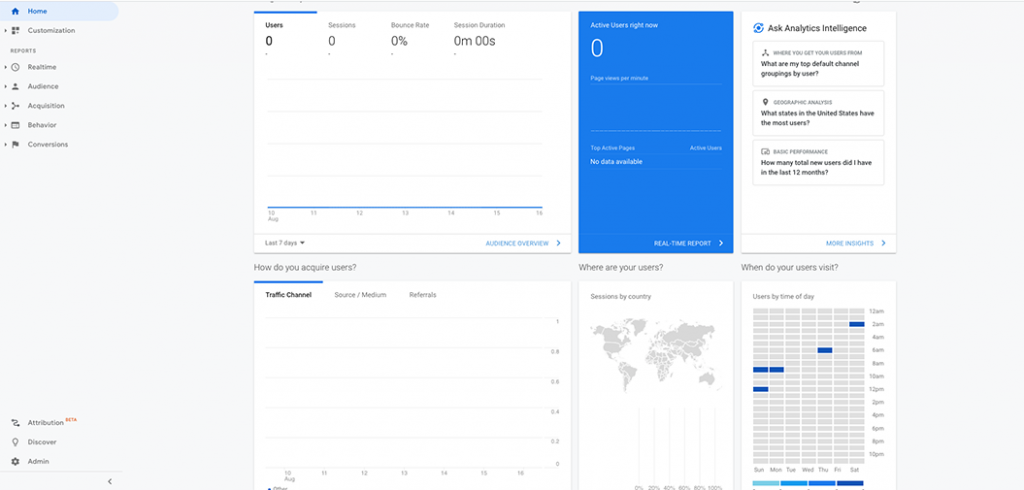 Why Google Search Console?
While in Google Analytics the common key performance indicators are broken down for your online marketing managers, the Google Search Console is essential particularly for the SEO managers and IT. The Google Search Console shows you any errors within your website structure. If, for example, a link is defective or any files are curbing heavily the speed of your website, you will find the specific error messages in the Google Search Console. Additionally, it becomes visible which websites are indexed with Google – and which are not. Particularly if you have a login area for your customers in your online shop, you certainly do not want it to be indexed. This would be an absolute data protection fiasco. The Google Search Console is also useful if you want to know via which keywords most accesses take place. In the Performance section, it can be seen which the top ten organic keywords for your website are. Ideally, your main products are found here. For example, if you sell mainly lawnmowers, "buy lawnmowers" should appear among the top ten organic keywords for your website. Unfortunately, the Google Search Console is often underestimated. Yet it is also the best starting point for reviewing the most important SEO factors such as page speed, responsiveness and external and internal link building.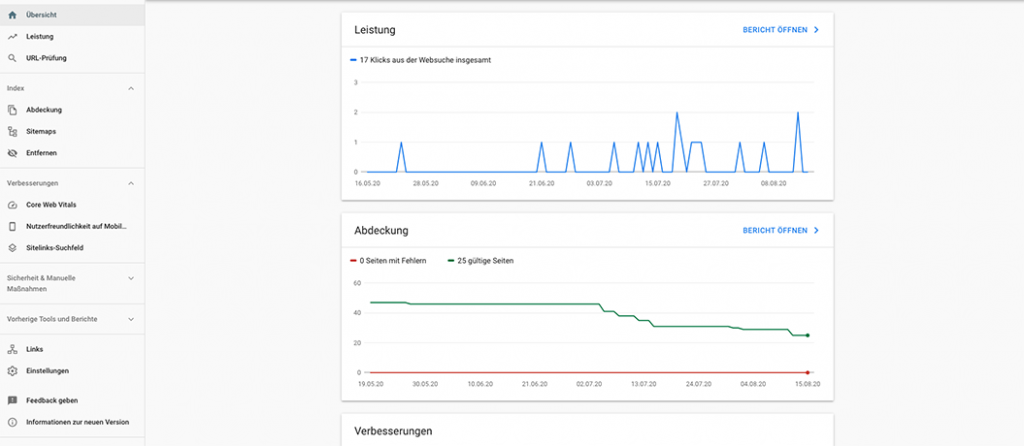 Why Google Tag Manager?
Unlike the first two tools, the Google Tag Manager does not serve analysis purposes. Instead, with the Google Tag Manager you can tag elements on your website and thus track them, or create an interface to other tools, without involving IT. For example, without much effort you can integrate the Facebook tracking pixel or that of external publishers on any desired landing page to have the key performance indicators (page access, bounce rate, conversion, etc.) shown in Google Analytics, allowing you to analyse the success of the respective campaign.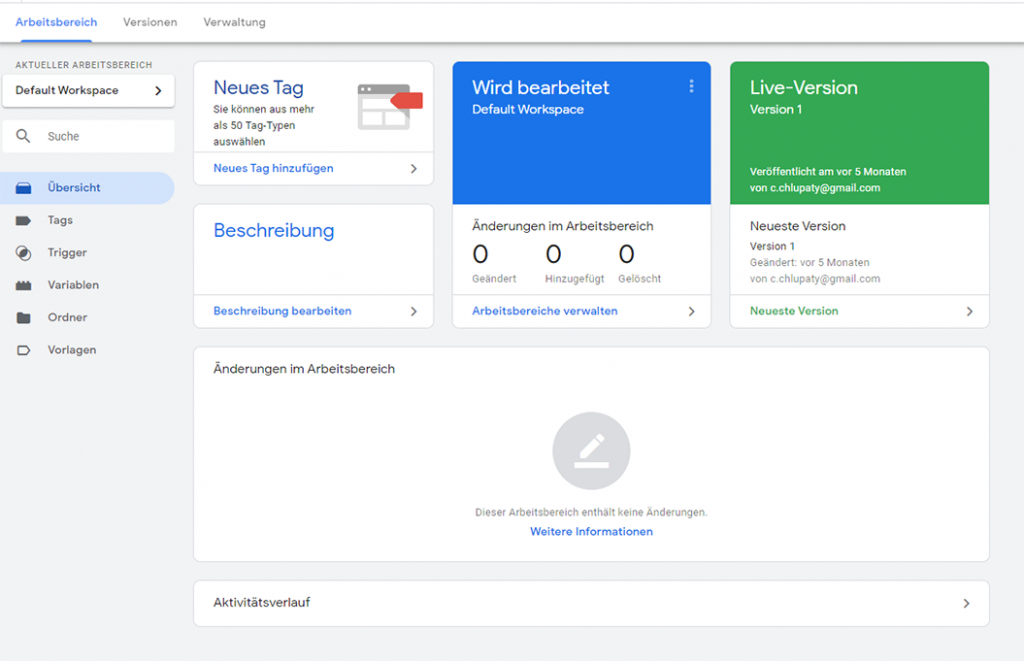 Integrate Google Analytics onto your website
To integrate Google Analytics onto your own website, you first need a Google account. As soon as you have created a Google account, the full range of Google tools is available to you: from your own Gmail account to Google Drive to Google Analytics, the Google Search Console and the Google Tag Manager. Now access the website https://analytics.google.com/. The following form will appear there: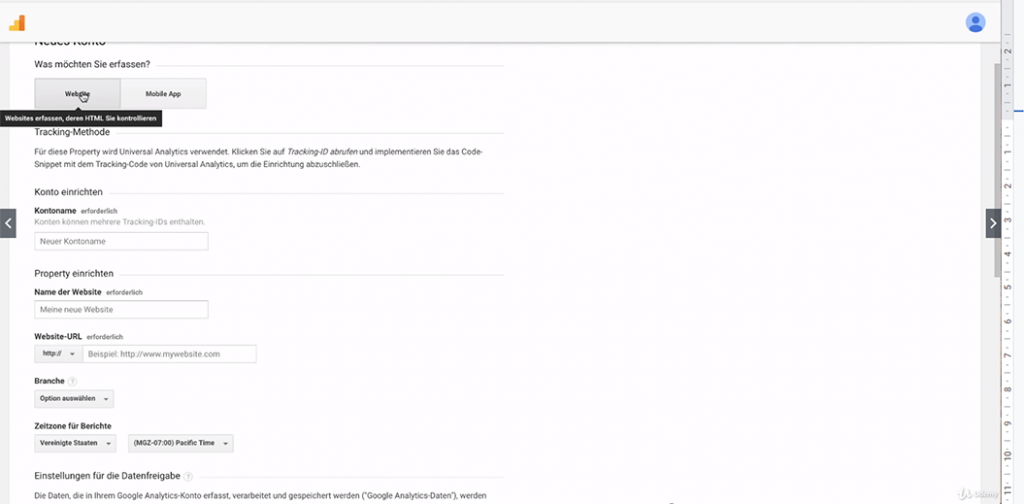 Here, you first define whether you want to track a website or a mobile app. Next, set a name for your Google Analytics account. The name of your company is recommended. In general, you can track various websites / applications within a Google Analytics account. Google calls the individual websites property. To begin, indicate the name and URL of your desired website. When indicating the URL, ensure that you select https instead of http if your website is secured by means of an SSL certificate. For an online shop, you should definitely have such a certificate. If you have selected http here instead of https by mistake, it is not the end of the world. As soon as your account has been set up, simply select the menu item "Property Settings" in the "Property" tab in the Admin area. There you can now correct your selection. Towards the end follow the self-explanatory details on industry and time zone as well as the data release settings. Here, you can define which of your data Google may store and use. Read this part carefully. Decide what you would like to tick.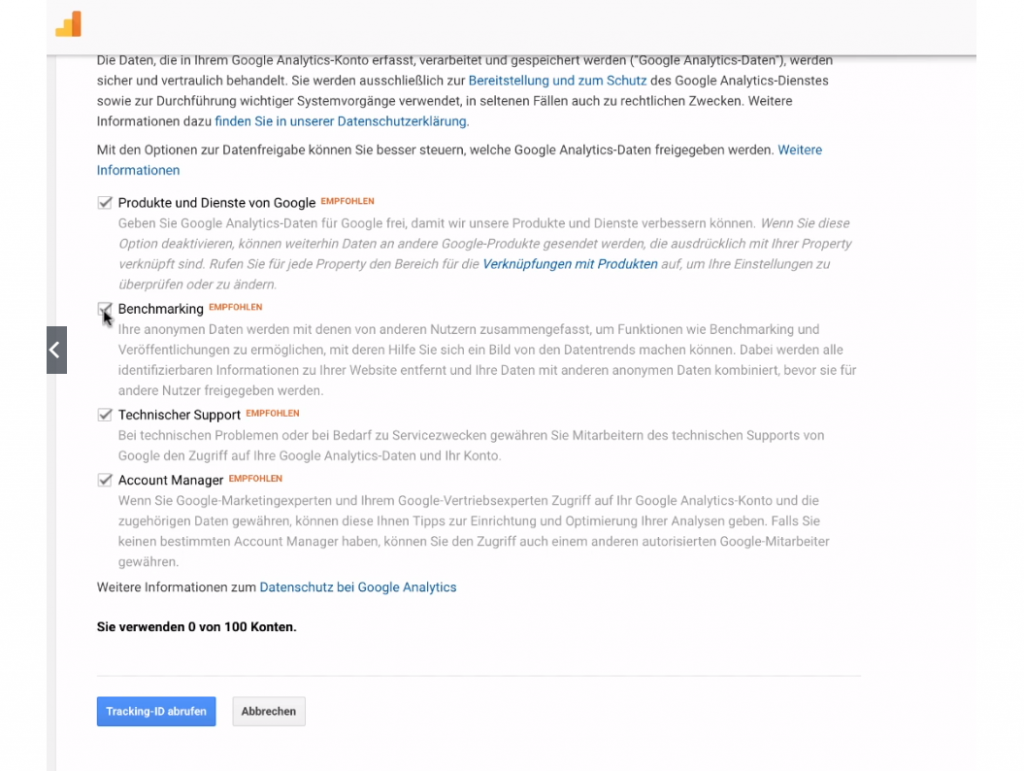 As soon as you are finished, click on the button "Access tracking ID". At this point, a pop-up opens that asks you to read through the Google Analytics terms of use for your country. These terms of use also include the Google Search Console as well as the Google Tag Manager. In general, according to German data protection law you are obligated to inform the user in your privacy policy if your website is tracked with Google Analytics and co. It's best to update your privacy policy before connecting your website to Google Analytics.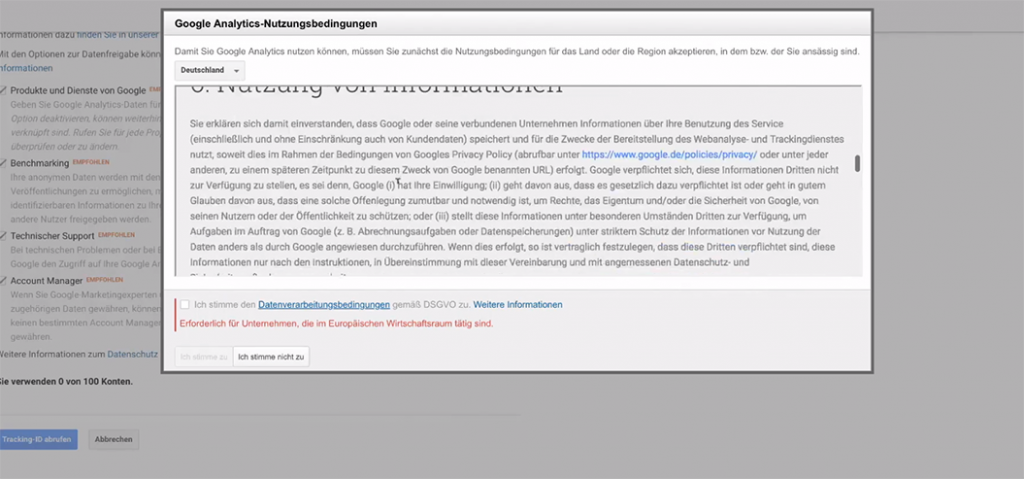 Once you have confirmed the terms of use, the dashboard of your Google Analytics account opens, where you are shown your personal tracking ID. The tracking ID consists of the letters UA and a ten-digit series of numbers: UA-XXXXXXXXX-X. Under the general ID you will find a JavaScript code snippet, the so-called gtag.js tracking code. This must be integrated on your website to allow data to be transferred from your website to Google Analytics. You thus verify your website not just for Google Analytics, but simultaneously also for the Google Tag Manager and the Google Search Console. There are two options for integrating the gtag.js tracking code on your website.
Copy the gtag.js tracking code and post it immediately after your website's tag. For this you require access to your website's HTML code. Additionally, there is of course a certain risk involved if you, as a lay person, tinker around in the HTML of your website. If you use WordPress, the plugin "Insert Headers and Footers" comes to your aid. This plugin integrates tracking tags and pixels into the area of your website for you.
Use the Google Tag Manager to create a universal Google Analytics tag. This variant is slightly more complicated but is the best option for comprehensive tracking. It means that the link between Google Analytics and the Tag Manager is ensured. Do you want to measure the interaction of the users with a certain page element using Google Analytics? Then create a tag for it in the Tag Manager and use that from now on instead of bothering a programmer. You can access the Google Tag Manager at the following URL: https://tagmanager.google.com/.
Here, you are now also asked first to install the Google Tag Manager / to verify ownership of the indicated website by integrating the following code: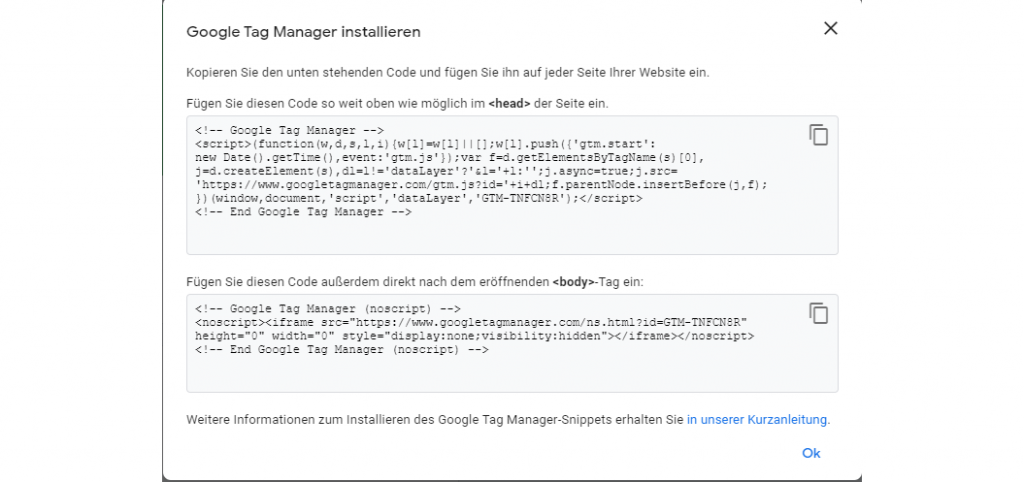 Once you have integrated this code on your website, update the URL of the Tag Manager (press Ctrl + R). The dashboard of the Tag Manager now opens, where you will find the item for creating a "New tag". If you select this option, a tab to configure the tag then opens. Give the tag the name "Google Analytics". Then, under the menu item "Tag configuration", select the tag type "Universal Analytics".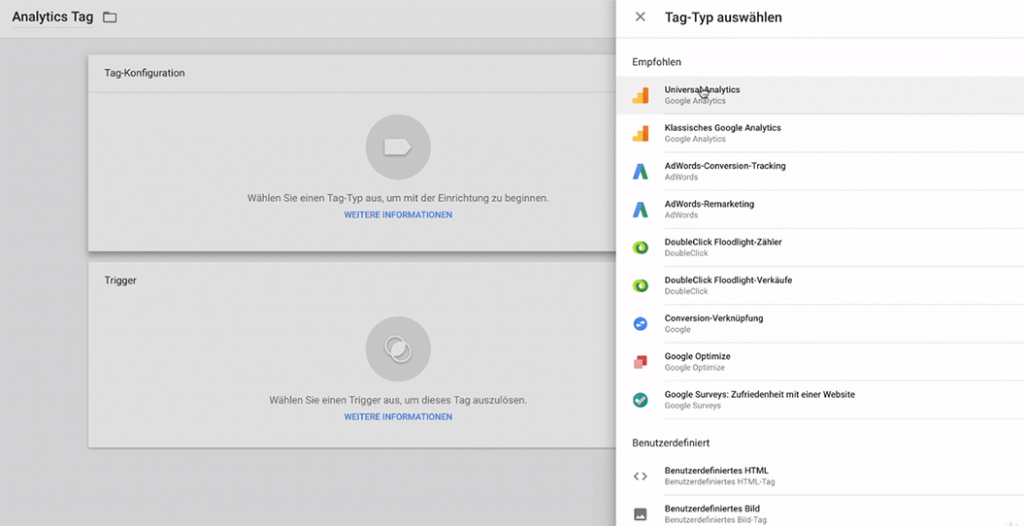 You then define what is to be tracked. There are seven different options here. In the beginning, it is recommended to track the page accesses.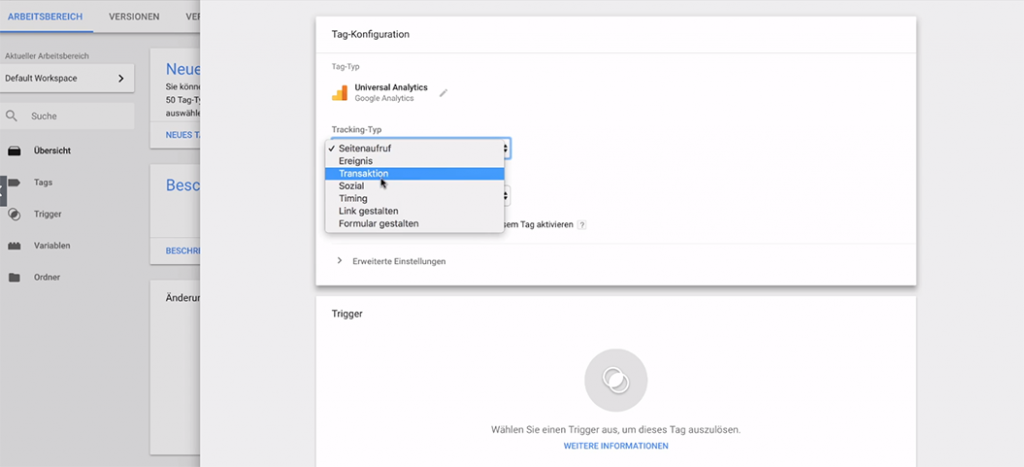 Now all that is missing is a variable. Since none is yet available, simply create a new variable. So that you can relate the variable to the previously created tag, the name should be along the same lines – for example, "Name of your website Google Analytics".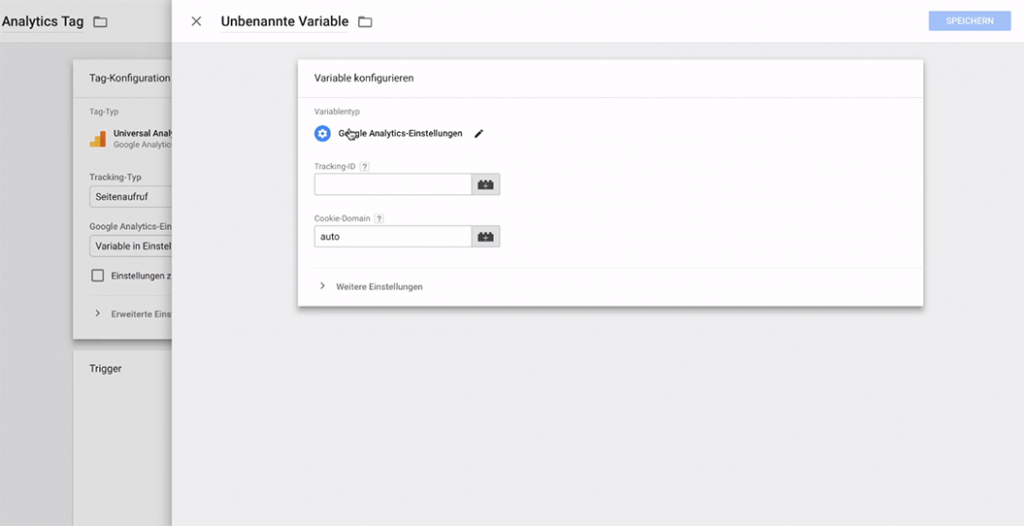 Then enter the tracking ID (UA-XXXXXXXXX-X) from your Google Analytics account. Before you now complete the process with the Save button, open the menu "More Settings" > "Fields to Set". Here, use "anonymizeip" for the field name and "true" for the value. It is thus ensured that the IP address of the tracked user is anonymised. If you do not apply this setting, your Google Analytics tracking is not data protection-compliant and you risk legal consequences.

Next, save your variable in order to return to the configuration of your tag and trigger. You have nearly finished. Now you have already set the tag and the variable. Finally, you just need to set a trigger. In your case, the trigger for your tag is "All Pages". After all, you want to track the page accesses on all subpages of your website.

Press Save and congratulate yourself: you have successfully created your first tag.
Link Google Search Console to Google Analytics
Now you have already set up Google Analytics and the Google Tag Manager and linked them with each other. You thus also have automatic access to the Google Search Console. You do not need to set it up additionally. Your website should already be stored there as property if you access the following URL: https://search.google.com/
Nevertheless, your Google Analytics account and the Search Console are not yet linked to each other. To ensure this, go into the Admin section in Google Analytics. There, under the "Property" tab, select the menu item "Property settings". Here, you will find the "Adjust Search Console" button under the Search Console item.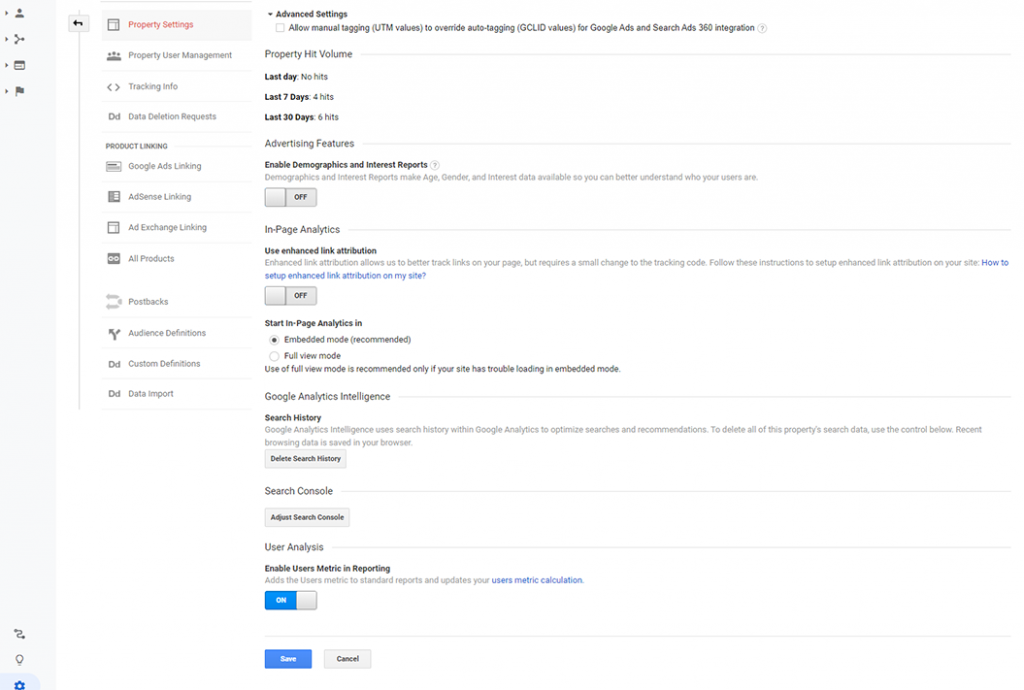 The following window opens; click on "Add".

The window "Enable Search Console data in Google Analytics" then opens, where previously created properties (websites linked to Google Analytics) are shown to you. Now select the property for which you would like to link Google Analytics to the Google Search Console and press the Save button.
Conclusion
It is important to know that there are several ways to connect Google Analytics, the Google Tag Manager and the Google Search Console to your website. Some prefer first to link the Google Search Console to the website, while others prefer first to set up Google Analytics. There is often a certain inhibition threshold involved in dealing first with the Google Tag Manager. However, online marketing experts agree that integrating Google Analytics via the Google Tag Manager is the best way. The direct link between Google Analytics and the Google Tag Manager pays off rapidly: you measure and analyse every desired element on your website in order to improve continuously, without being dependent on a lot of technical expertise. In combination with the Google Search Console, which provides you with concrete SEO measures, you are well catered for in the tracking tools area. In part 3 of the "Tracking in E-Commerce" series, find out how to evaluate the key performance indicators in Google Analytics & co and how to formulate sustainable measures in order to overtake the competition.
If you are interested in further exciting professional articles on the topic of e-commerce, subscribe to the IAW newsletter. You will receive regular high-quality content, as well as relevant updates about the International Trade Fair for Retail Promotions and Imports.